-作者介紹
Author Lo-Chih Shen (Roscoe)
Assistant Professor , Dept. of International and Mainland China Affairs, National Quemoy University
Ph.D., Philosophy Educati
University of Idaho, Moscow, ID, USA
Author Zheng-Wei Lin (Angus)
Assistant Professor , Dept. of International and Mainland China Affairs, National Quemoy University
Director of General Education Center , National Quemoy University
Ph.D., Philosophy of Law
National Chengchi University, Taiwan
-序
ABSTRACT
E-learning has risen to prominence in higher education because of advances in information technologies. There has been a pervasive increase in the use of e-learning in higher education. The purpose of this research was to study students' perceptions of integrating online components into an undergraduate business course and to study those perceptions in relation to academic achievement. The two research questions were: What are the dominant factors that affect students' academic performance in online learning environments that are coupled with traditional learning? and, What are students' perceptions of online learning components within a traditional, classroom-delivered course? Factors related to students' perceptions and to academic achievement were also identified and examined.
Research was conducted in two courses, Fundamentals of Credit Analysis and Risk Management, and Corporate Estate Management at Feng Chia University (FCU) of Taiwan. The questionnaire used to study perceptions consisted of 31 items within five sections: (a) Experience with Technologies, (b) Use of E-learning Environment, (c) Self-paced Learning, (d) Benefits of E-learning, and, (e) Satisfaction with E-learning.
With respect to achievement, students served as their own controls, and a pre-assessment and post assessment was conducted on achievement. With respect to student perceptions, the questionnaire itself was used. Data collected in this study was also used to conduct a factor analysis that was used to identify potential factors for future study.
There was only slight evidence of student achievement gains resulting from the e-learning components. Following the factor analysis, the new factors were analyzed and were positively correlated with student achievement. Analysis of student perceptions indicated that students were mostly satisfied with many of the elements of e-learning, and found it useful for their study. However, there were areas of technology that the students rated more poorly, suggesting that instructors and universities need to be careful in the features of the system they are using, in the quality of the materials that they provide to students, in training provided to students, and in collaboration of instructors with support services such as libraries. The findings also showed that instructor and peer interactions are very important in an e-learning environment. Future studies are encouraged that explore measurement instruments and technological and pedagogical aspects of e-learning in higher education.
-目錄
TABLE OF CONTENTS
SEQUENCE 4
ABSTRACT 6
ACKNOWLEDGMENTS 8
TABLE OF CONTENTS 10
LIST OF TABLES 14
LIST OF FIGURES 17
CHAPTER ONE:INTRODUCTION 19
Characteristics of E-learning 22
Need for the Study 25
Purpose of the Study 25
Research Questions 26
Conceptual Framework 27
Research Design 28
Delimitations 29
Assumptions and Limitations 31
Definition of Terms 31
E-learning 31
Synchronous Activities 31
Asynchronous Activities 31
Traditional Learning Environment 32
Online Learning 32
Internet 32
Significance 33
Summary 33
CHAPTER TWO:LITERATURE REVIEW 35
E-learning in Higher Education 37
What E-learning Is 42
Advantages and Disadvantages of E-learning 44
The Place of E-learning in the Pedagogical Context 47
The Place of E-learning in Instructional Design and Theory 49
Design and Implementation of E-learning 51
Assessment and Evaluation of E-learning 56
Issue: Accreditation of E-learning 64
Challenges and Opportunities 69
Summary 72
CHAPTER THREE:DESIGN OF THE STUDY 75
Research Questions 76
Procedures 77
Data Analysis 78
Experimental Setting and Sample 79
Instrumentation 81
Summary 82
CHAPTER FOUR :ANALYSIS AND RESULTS 83
Organization and Analyses for this Study 84
Student Characteristics and Course Enrollments 84
The Questionnaire 86
Factor Analysis of Items in the Scale 88
Correlation Analysis 95
Reliability After the factor Analysis 95
Results for Research Question One 96
Effect Size Analysis Using Rotated Factors 98
Results for Research Question Two 114
Summary 120
CHAPTER FIVE:FINDINGS, DISCUSSION AND RECOMMENDATIONS 123
Introduction 123
Data Summary for Research Questions 123
Research Question One 123
Research Question Two 127
Summary of Findings, Discussion and Recommendations 129
Student Achievement 129
Student Perceptions 130
Discussion 137
Implications of Findings 137
Online Instruction in Traditional Courses 137
Training for Students in Use of Online Resources 138
Establish Collaboration for Instruction 139
Increased Human Interactions in Online Assignments 139
The Need for Blended Learning in Instruction 140
Recommendations for Future Study 141
Experimental Design 141
Metrics in E-Learning Research 141
Pedagogy and E-learning 142
Summary 143
REFERENCESR 145
APPENDIXES 157
Appendix A:Questionnaire (English Version) 158
Appendix B:Chinese Survey (Initial Translation) 165
Appendix C:Approval of Human Assurance Committee 169
Appendix D:Questionnaire Items with High Student Ratings 170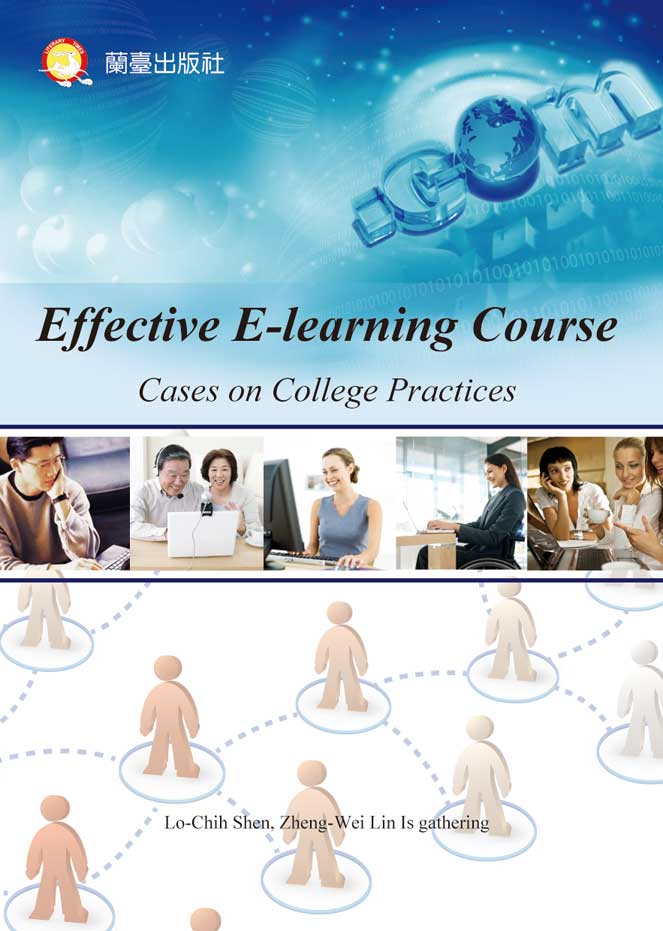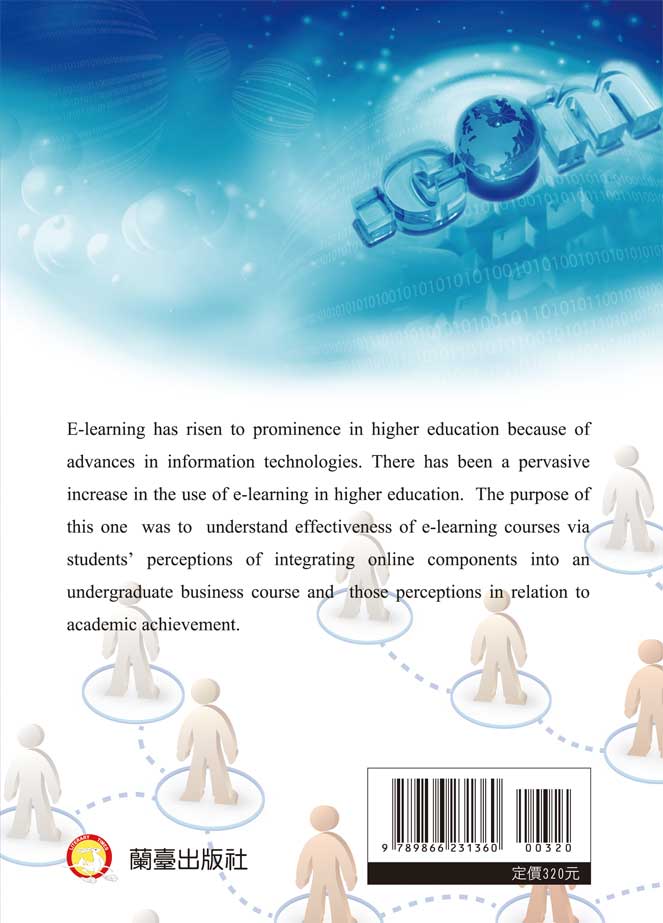 單筆購物2000元以下,運費100元;單筆購物2000元以上免運費。
為了保障您的權益,若您發現購買的書籍有瑕疵,麻煩請您留言或是電話詢問後續處理方式。
商品換貨時,麻煩請您留下購買書籍的郵戳或是收據做為憑據。
若需要團體訂購,我們有專人服務。來電請洽博客思出版社:
電話:02-2331-1675 / 傳真:02-2382-6228 / 上班時間:週一至週五,08:30~18:00